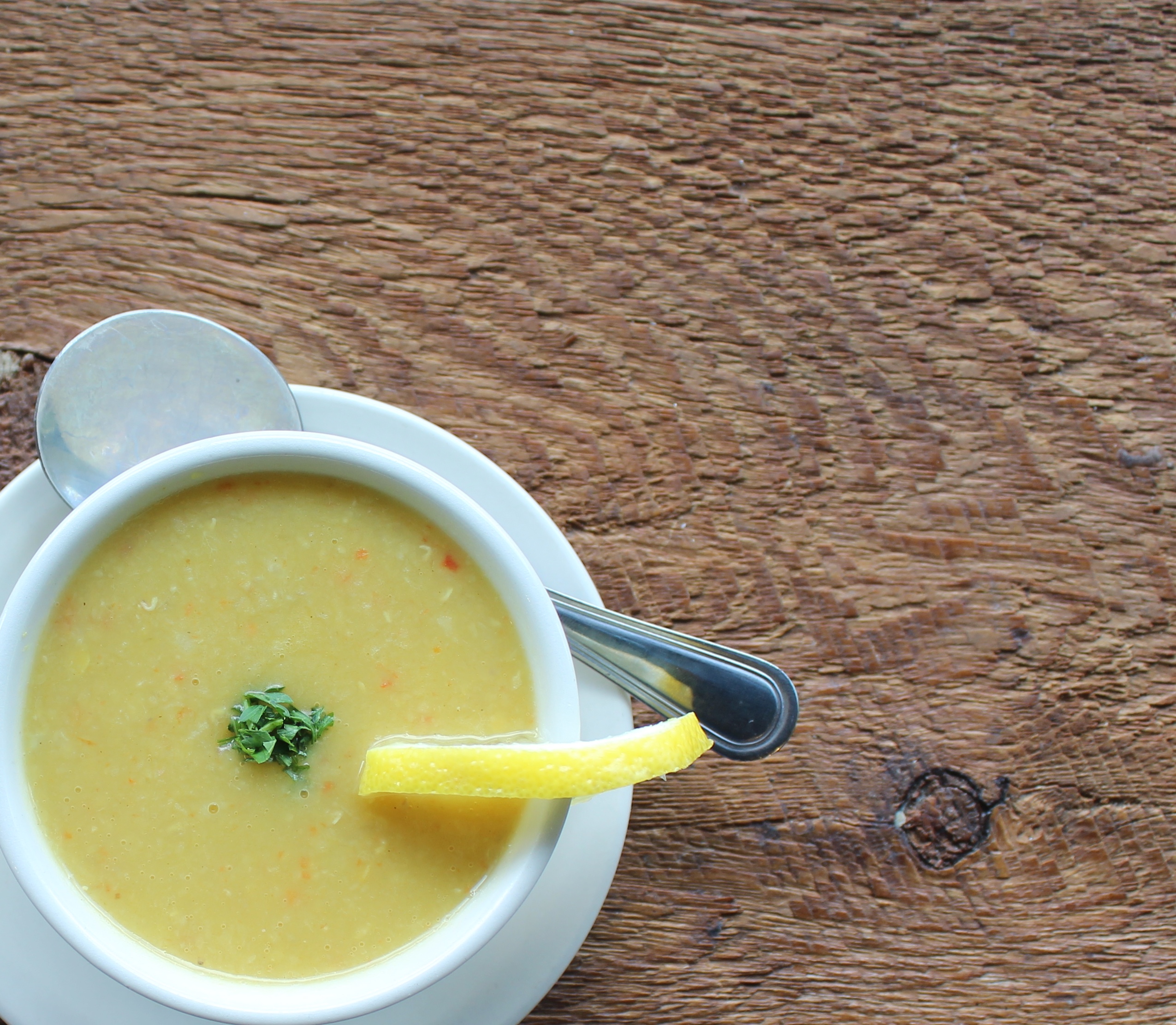 Lentil and Chicken Soup Recipes
Winter in Toledo, Ohio, calls for chilly nights by the fireplace, beautiful snowy landscapes, and tasty Lebanese food at Sidon Lebanese Grille and Bakery!
Although you're more than welcome at our restaurant all winter long, on the coldest winter nights, sometimes all you want is to relax at home. And there's no better meal for a peaceful winter night than a hot bowl of classic Lebanese soup. Our Lentil soup and Chicken Vegetable soup recipes will keep you warm even on the coldest of nights. Read on to learn how to prepare these savory classics from Sidon Lebanese Grille and Bakery.
Stay Warm in the Middle of Winter with Our Hearty Lentil Soup
Lentil Soup is an extremely popular dish in Lebanon, and many people enjoy it as an appetizer before a big meal. If you're looking for something lighter, you can even make an entire meal out it. Tasty spices such as cumin make it a flavorful soup for any occasion. This recipe serves six people, so be sure to invite your friends and family!
Ingredients:
2 cups red lentils
1 cup Calrose rice
1 1/2 tablespoons olive oil
1 large onion, chopped
2 large carrots, chopped
1 stalk celery, chopped
2 teaspoons minced garlic
6 cups vegetable stock
2 tablespoon salt
1 tablespoon paprika
1 teaspoon coriander
1/2 tablespoon ground cumin
1/4 cup lemon juice
Soak red lentils and Calrose rice in separate bowls for about 30 minutes.
While they are soaking, add olive oil to a large pot and bring to medium heat. Add onion and sauté until brown. Cook for 5 minutes or until soft.
Place the carrots and celery in blender and puree until fine. Add pureed vegetables and garlic to onions in pot and cook for about 5 more minutes. Add vegetable stock and red lentils to pot and bring to a boil. Lower heat and allow to simmer for 40 minutes.
Add Calrose rice and let simmer for another 20 minutes. Add salt, paprika, coriander, cumin and lemon juice. Serve with fresh lemon and garnish bowls with chopped parsley if desired.
Chicken Vegetable Soup – Perfect for a Cold Winter Day
Our Chicken Vegetable Soup is just what you need to get through the winter. It's a great choice if you're feeling under the weather. The easy Chicken Vegetable Soup from Sidon Lebanese Grille and Bakery will be an instant hit with you and all your guests! This recipe serves six people, so it's up to you whether you want to share.
Ingredients:
1 large whole chicken
1 cinnamon stick
3 bay leaves
1 teaspoon allspice
3 cups chicken stock
3 tablespoons tomato paste
1 cup corn
1 cup carrots, chopped
1 cup green peas
1 cup green beans
Salt and pepper to taste
Place chicken in large pot filled with water and bring to a boil. Lower heat to medium-low, add cinnamon stick, bay leaves, salt and pepper and let simmer for one hour.
Let chicken cool and debone. Combine the chicken, chicken stock, tomato paste, vegetables and all spice in a pot and bring it to a simmer. Cover and allow it to simmer for half an hour. Add salt and pepper to taste.
Remove from heat and serve. Garnish with parsley if desired.
Sidon Lebanese Grille and Bakery is Open All Winter Long
We hope you enjoy our authentic Lebanese soup recipes this winter. Our Lebanese soups will help you get through the harsh winters in Toledo, Ohio. And remember, if you're craving something more filling than soup, you can visit us at Sidon Lebanese Grille and Bakery any time for a hearty winter meal!