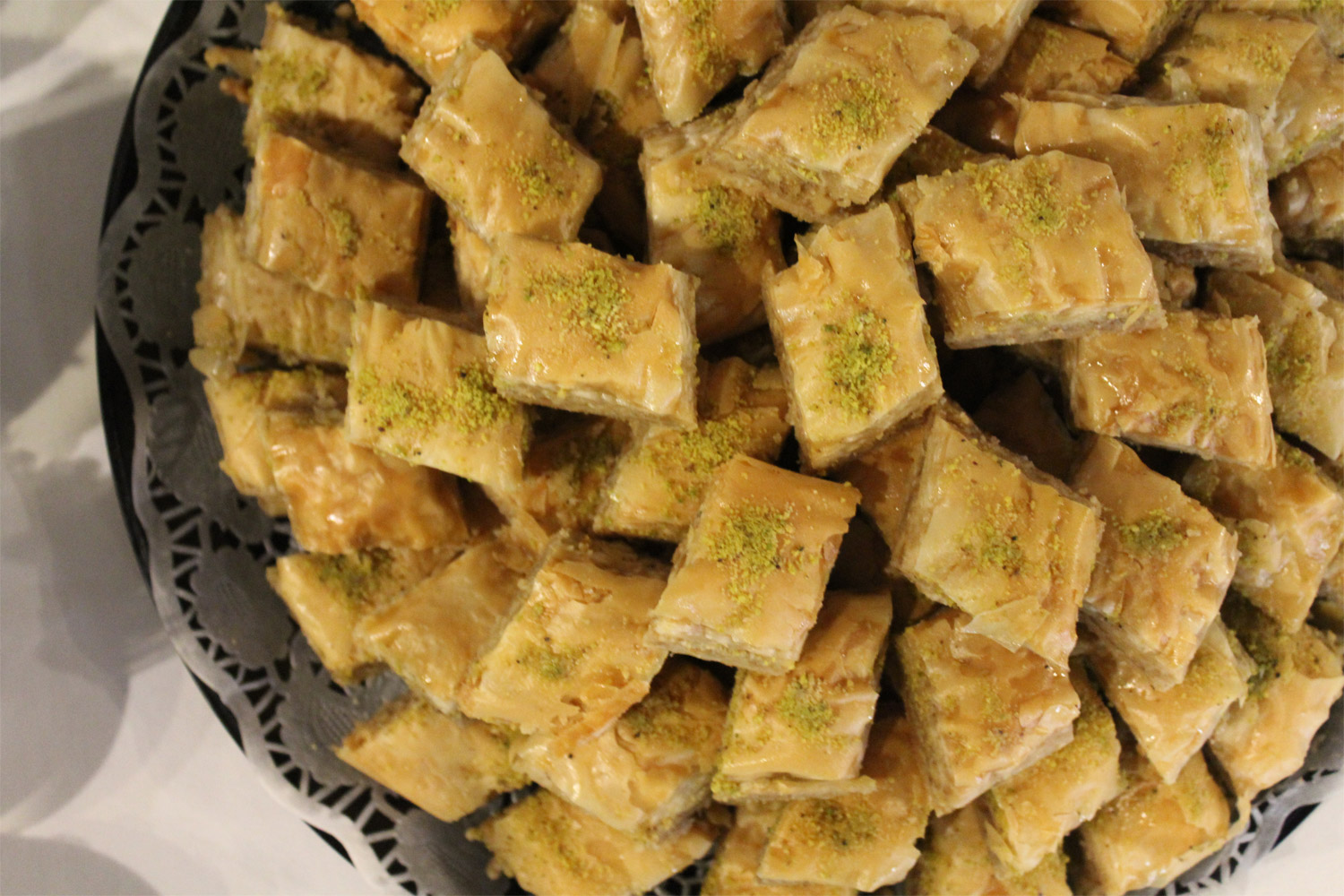 Baklava Recipe
Baklava is a Lebanese favorite that is often passed down through families for generations. Everyone has their own technique for making this classic dessert, and today, we're going to share one of our favorite recipes!
A Note About the Ingredients
Before you begin crafting your delectable dessert, there are a few things we'd like to mention regarding the ingredients. When you go shopping for baklava ingredients, you may not be sure exactly what to look for in the supermarket.
Orange blossom water is used in many Middle Eastern desserts and has a distinct taste that makes for an unforgettable flavor. This ingredient has been used for generations and serves many purposes, but today we're focusing on baklava! You can find it next door at Middle East Market and most grocery stores.
Next, you may be wondering what kind of phyllo dough to buy. After all, this isn't exactly a common ingredient! However, you can also find them next door at Middle East Market and most grocery stores. There are many types of phyllo dough available for sale, but we recommend buying the thinnest variety you can find.
Now that we've covered the basics, let's move on to the main event: baking some delicious baklava to share with your friends and family!
Ingredients:
2 16oz package frozen phyllo dough, thawed
Filling:
2 lbs walnuts
¾ cup sugar
2 Tbsp orange blossom water
2 1/3 sticks butter, melted
Syrup:
3 cups sugar
2 cups water
2 Tbsp orange blossom water
Preheat oven to 325 degrees. Use a food processor to grind the walnuts coarsely, and add the sugar and orange blossom water. Mix well and set aside.
Grease your pan with butter or cooking oil to prevent the dough from sticking. Separate one package of phyllo dough and place the sheets into the baking pan one-by-one. Each sheet should be brushed with butter once you set it into the pan. After your sheets have been placed in the pan and individually brushed with butter, spread a layer of nuts over the top.
Place 1 layer of phyllo dough on top, then spread a layer of nuts on top of it. Repeat this step 3 more times. You should aim to spread an even amount of nuts between each layer. Be sure to save a small amount of nuts for garnish.
Place 8 more layers of phyllo dough on top of the nut layer, buttering each layer as you go. Apply a generous amount of butter on the top layer.
Cut your baklava into rectangular pieces. You should aim to make each piece about 2 inches wide and 3 inches long.
Bake your baklava at 325 degrees until the top is golden brown, which should take about 45 minutes to an hour.
In the meantime, prepare the syrup by mixing the sugar and water together and bringing it to a boil for about 15 minutes. Remove syrup from heat and add orange blossom water. Stir and let cool.
After you remove the baklava from the oven, immediately pour the syrup overtop of it. This should cause it to sizzle. Allow the baklava to cool at room temperature for about 5 hours, then garnish with the remainder of the chopped nuts.
Serve to your friends and family and enjoy!
This delicious, flaky dessert will complement any meal, and can be served for a wide variety of occasions. It doesn't matter if you're having the party of the decade and inviting your entire family, or if you're just having a couple friends over for the afternoon. Baklava will spice up any occasion and bring life to every party!